Welcome
Welcome to the Borough of Bell Acres established on March 14, 1960. Population is approximately 1,350. Bell Acres Borough is 5.5 square miles and is located in Allegheny County, conveniently located 20 miles from downtown Pittsburgh, PA. It is comprised of mainly single family homes, two parks, a premier youth recreational facility, and numerous hiking trails.
---
ANNOUNCEMENT
Due to the Coronavirus situation, and out of an abundance of caution, please be advised that the Bell
Acres Borough has taken steps to limit the exposure or possible spread of the Coronavirus within our
community. We have no greater responsibility than to protect the safety, health, and welfare of our
community.
Therefore, Effective March 16, 2020, the Borough Municipal Building is closed to the public until further notice. Our staff is working and available. If you need to contact the Borough Staff, please call (412) 741-5448.
The Bell Acres Police Department will be handling non-emergency calls via phone, in order to limit
exposure. If you need to speak with a Police Officer for non-emergencies, please call (412) 741-3010.
For emergencies, please call 911.
---
Bell Acres Comprehensive Plan Makes Progress
---
PA STATE REPRESENTATIVE VALERIE GAYDOS TOURS FLOOD DAMAGED AREAS IN BELL ACRES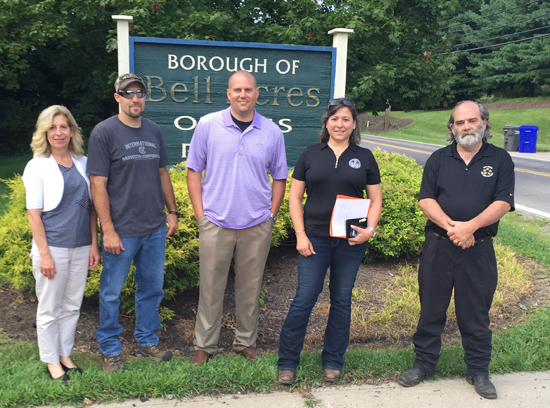 PA State Representative Valerie Gaydos met with some of the Borough Officials on July 16, 2019. Rep. Gaydos joined the officials in touring and assessing the flood damaged areas and road closures that have occurred throughout Bell Acres.
---
Alert
Duquesne Light is working throughout the Borough.
Please click the "For Residents" link for more info.
Columbia Gas is working throughout the Borough.
Please click the "For Residents" link for more info.
---
YOU'RE INVITED…to share special memories, stories & photos of life in Bell
Acres/Sewickley Township. Now is the time to dig out those forgotten scrap books
& boxes of childhood photos. Please join in telling the Bell Acres story & preserving
its history for future generations.
Contact Bell Acres historian Debby Rabold at history@bellacres.org
Phone: 412 741-5448 Fax: 412 741-6302