History
Back in the Country…Bell Acres Stories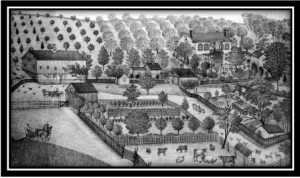 Our story begins little more than 200 years ago when hardy pioneers began venturing into the wilderness North of the Ohio River. Heavily wooded hillsides and deep ravines meant the Bell Acres area never became heavily populated and was commonly referred to as the "hills back of Sewickley" or "back in the country" where farming was the way of life.
In 1854, a group of Ohio Township residents successfully petitioned the court to cede from Ohio and form Sewickley Township, not to be confused with Sewickley Borough that was organized the previous year. The new Sewickley Township included what is today Bell Acres, Leet, Leetsdale, Edgeworth and portions of Sewickley Heights and Sewickley Hills.
After the secessions of what became neighboring communities, the remaining Sewickley Township progressed at its own unhurried pace. For much of the 20th century, the township remained rural with scattered farms and one-room schools. Shopping and business were conducted in nearby Sewickley and Ambridge.
Sewickley Township transitioned into Bell Acres Borough in 1960, becoming a highly desirable residential community noted for valuing its parks and natural areas. Part of the Quaker Valley School District, the 5.5 square mile borough with a population of approximately 1400 residents is located above the Ohio River twenty miles Northwest of Pittsburgh. The following articles tell the story of the people and events that created the community we call home. Enjoy!